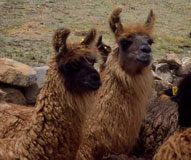 LAMAS (workshop on Logic and MultiAgent Systems)
University of Otago, 15 and 16 February 2007
http://www.cs.otago.ac.nz/staffpriv/hans/lamas2.html
The workshop Logic and MultiAgent Systems aims to provide a forum to foster lively and fruitful discussion on issues involved in logic and multiagent systems. Particular topics of interest are:
Specification, verification, and synthesis of multiagent systems
Description logics
Relation between temporal and dynamic logics
Automated reasoning and model checking
Security protocols
Models of peer-to-peer networking
Intelligent databases (with multiagent aspects)
Models of electronic institutions and contracts
---
Call for proposals
We solicit one page abstracts presenting advances in any area of relevance to the workshop themes. We target researchers active in (but not necessarily restricted to) the topics of specific interests listed above. We encourage submissions overlapping with more than one of the targeted areas of interest, to broaden the interest for workshop participants from different backgrounds -- in particular areas wherein logic AND multiagent systems overlap. We encourage submission of ongoing research, in order to ensure lively discussions and in accordance with the 'workshop' character of this event. A similar LAMAS workshop has been held in 2002, see http://www.cs.otago.ac.nz/lamas/ .
Please submit a one page abstract of your intended presentation, in postscript of pdf, by email to hans@cs.otago.ac.nz AND scranefield@infoscience.otago.ac.nz. The deadline for submission is 1 December 2006. Author notification: 20 December 2006. The call for proposals is now closed.
---
Invited Speakers
---
Workshop program
Thursday 15 February
9:30 - 10 AM, coffee/tea
10 - 10:50 AM, Enrico Franconi, Free University of Bolzano, The logic of information integration: classical vs peer-to-peer approaches
11 - 11:50 AM, Tommie Meyer, National ICT Australia and University of New South Wales, Debugging Logic-Based Ontologies
12 - 1:30 PM, lunch
1:30 - 2:20 PM, Mariusz Nowostawski, University of Otago, The concept of autonomy in multi-agent systems
2:30 - 3:20 PM, Bastin Tony Roy Savarimuthu, University of Otago, Multi-Agent Systems and Social Networks - An Overview
3:30 - 4 PM, coffee/tea
4 - 4:50 PM, Stephen Cranefield, University of Otago, A temporal logic and rule language for modelling and monitoring social expectations
Friday 16 February
10 - 10:50 AM, Guido Governatori, University of Queensland, The cost of social agents
11 - 11:50 AM, Katarina Britz, Johannes Heidema, and Willem Labuschagne, University of South Africa and University of Otago, Abduction and dual defeasible entailment
12 - 1:30 PM, lunch
1:30 - 2:20 PM, Pietro Abate and Rajeev Goré, Australian National University, A Cut-free Tableau Calculus for the Logic of Common Knowledge
2:30 - 3:20 PM, Rod Girle, Auckland University, Dialogue Logic and Disaster, the original idea
3:30 - 4 PM, coffee/tea
4 - 4:50 PM, Hans van Ditmarsch, University of Otago, Arbitrary announcement logic
---
Registration
Participation to the workshop is free but registration is required. All speakers please also register. To register, send an email to Helen Dunn, helend@cs.otago.ac.nz , +64 3 479 8578. Helen Dunn will also assist those looking for accommodation.
---
Venue
University of Otago
Commerce Building, boardroom (CO4.19/20)
60 Clyde Street
(Corner Clyde St and Union St)
Dunedin
New Zealand
Download the University of Otago Dunedin campus map in PDF format.
---
Social Event
The Last Night of the Proms concert takes place Friday 16 February, at 7:30 PM, in the Dunedin Townhall. Tickets can be ordered online (follow the link). Stephen Cranefield is principal clarinet in the Southern Sinfonia and plays in this concert.
---
Workshop Organisers
Stephen Cranefield , Information Science, University of Otago, Email: scranefield@infoscience.otago.ac.nz
Hans van Ditmarsch , Computer Science, University of Otago, Email: hans@cs.otago.ac.nz
---